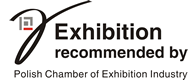 17.10.2016
The success of the last edition resulted in the fact that the MEBLE POLSKA 2017 Furniture Fair enjoys great popularity among exhibitors. A number of new companies are interested in participation in the fair, and some of the existing exhibitors increase the surface area of their stands. So the next fair once again promises to be record-breaking.
15.09.2016
"You are a role model for other industries" said the Minister of Development on Thursday to the participants of the National Furniture Congress "Polish Furniture – Competitive Poland" at the FURNICA and SOFAB 2016 fairs in Poznan. [gallery]
09.09.2016
Wood and furniture industries play an important role in Poland – wood industry generates over 2 % of the Polish GDP and also provides employment for over 300 thousand people. However, despite its good condition, this sector needs more inspiration and what follows - innovations, professionalization and good practices. And here assistance is provided by International Trade Fair of Machines and Tools for Wood and Furniture Industries DREMA 2016 and held concurrently, International Trade Fair of Components for Furniture Production FURNICA, International Trade Fair of Upholstery Fabrics and Components for Upholstered Furniture SOFAB and Trade Fair of Machines and Components for Textile, Clothing and Footwear Industries INTERMIC (13-16.09.2016).
More news
---

MEBLE POLSKA Furniture Fair: 14-17 March 2017