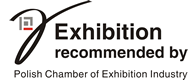 25.08.2016
What furniture will look like in the next season? This question will be answered by the modern design trends forum 2017 organised at the FURNICA and SOFAB fairs devoted to the latest solutions and trends in furniture design as well as the current and future preferences in terms of colour and material.
25.08.2016
This year's edition of the FURNICA and SOFAB fairs will bring many new accents. One of them is the National Furniture Congress "Polish Furniture – Competitive Poland" organised by the Polish Chamber of Commerce of Furniture Manufacturers (OIGPM) in collaboration with MTP and the Promedia agency. The main topic of the meeting of manufacturers of furniture, to be held on September 15, will be the competitiveness of the Polish furniture industry in foreign markets.
07.08.2016
We kindly invite you to read the latest issue of "Poznań Fair Magazine". We invite you particulary to read about the GOLDEN MARKETING CONFERENCE, which take place in November. The main topic of this year conference will be neuromarketing, innovation and personalization. PMT readers' interested in participation in the conference can take adventage of special discount.
More news
---

MEBLE POLSKA Furniture Fair: 14-17 March 2017